Steven Tyler's Million Dollar Car
Here's a story that caught Wease's eye...
Question: Which celebrity would you expect to buy a custom car worth $1.1 million?
You probably assume the answer would be Chris Brown or Justin Bieber, but you'd be wrong. Actually, Steven Tyler is the one tooling around Los Angeles in his Hennessey Venom GT Spyder.
The Aerosmith singer showed up at the Stuart House benefit with bandmate Joe Perry, but all anyone wanted to talk about was the car.
And yes, it's pretty unique — only five were made, according to Yahoo! Autos. The ride can hit 200 miles per hour in 16 seconds, making it the fastest car in the world.
Maybe some people are impressed by this, but we just think it's a lot of cash to drop on a depreciating piece of equipment. Why not spend that cash on a new house? At least that's an investment.
Then again, we're not exactly car aficionados — especially not for ones that are nicknamed "the best way to die."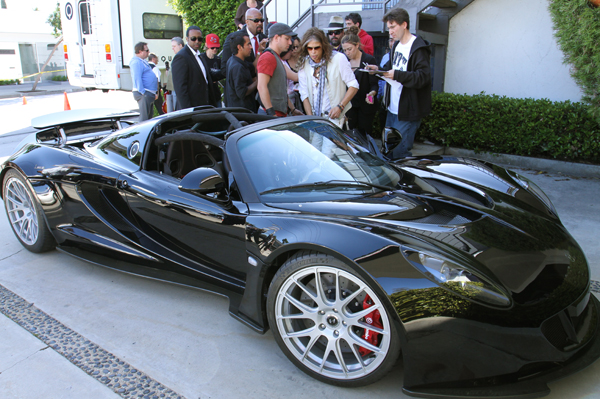 Brother Wease has been a morning radio fixture in Rochester for over thirty years, in addition to hosting shows on XM Satellite Radio and WBUF in Buffalo. Wease is known for his openness with listeners, including the sharing of much of his personal life. He is a war veteran, having completed three tours of duty in Vietnam. He has been married three times and has six children. He met his current wife, Doreen, when she was a guest on his show. He is a motorcycle enthusiast and an avid poker player. His work history includes stints as a concert promoter, a mail carrier, and an overnight disc jockey. He is part owner of Physical Graffiti, a tattoo parlor on Ridge Road.The champion of all things Rochester, Wease is adored by his listeners as the city's foremost proponent of cultural events and recreational activities. Brother Wease served as an emcee at Woodstock in 1994 & 1999.Wease founded a charity called Wease Cares in honor of a friend who died after a long bout with cancer in 1998.Gregg "Opie" Hughes of The Opie and Anthony Show has referred to Brother Wease as his mentor. Hughes worked with Wease at the same station in Rochester when he was first breaking into the business. Nationally syndicated talk radio host Stephanie Miller was once a co-host with Wease, using the on-air name "Sister Sleaze".The Wease Show on Radio 95.1 features nationally known comedian Marianne Sierk, Deanna King, Pauly, sports with John DiTullio and news updates from 13 WHAM-TV's Doug Emblidge.The show airs weekday mornings from 5am to 11am and is streamed online at http://www.Radio951.com/.