Wease Show Rundown 2-4-14
R.I.P Faith Tantalo
We start the show this morning on a very sad note. Faith Tantalo, the wife of Joe T. (Wease's best friend and partner at Physical Graffiti) died yesterday afternoon of the flu at age 46. She got sick over the weekend, and passed away in the hospital while being prepared for surgery. She was very close to Wease, and even ran the Wease Cares charity. Please send your thoughts and prayers to Joe T.
Tools with Sports
Wease read an article in Time Magazine yesterday that has him ready for the Winter Olympics starting this week. The story was about twin sisters that play on the Women's Hockey Team, and Wease feels bad that Monique Lamoureux and Jocelyne Lamoureux will never be able to make money playing the game.
John and Wease debate about whether the Summer or Winter Games are more fun to watch, with Tools choosing summer, and Wease the opposite.
We also discuss the possibility of terrorism in Sochi, and flashback to the Lake Placid Olympics of 1980, which is a situation that will never happen again with the biggest thing in the world happening in such a tiny town, and the "Miracle On Ice".
Redneck News
State Police in Wolcott reported the arrest on Saturday (1/25) of Katlynn Leibenguth, age 18, of Maple Avenue in Sodus for one count of Endan­gering the Welfare of a Child. It is al­leged that on Janu­ary 12th, Leibenguth aided a 14 year- old girl to run away from home after the girl left her residence through a bedroom window. Leibenguth will appear in Sodus Town Court on February 19th.
Had Scott Patrick Harmon been wearing a seatbelt as he drove down Interstate 75, he might have gotten away with carrying the 37 pounds of marijuana police said he had in his car.
However, Gainesville Police arrested the 35-year-old of Peyton, Colo., Wednesday afternoon on charges of marijuana trafficking and giving a false ID to law enforcement after officers pulled him over on a traffic stop, according to an arrest report.
At about 2 p.m., an officer pulled Harmon over near Micanopy and noticed something hanging from the bottom of his car. The officer smelled marijuana coming from his car, according to the report.
The officer wrote Harmon a citation on the seatbelt violation, according to the report.
After writing the warning, the officer searched Harmon's car and found three suitcases filled with about 37 pounds of marijuana wrapped in clear plastic bags — worth roughly $175,000 — according to the report.
During questioning, Harmon told the officer the driver's license he provided was his brother's and that his license was hidden in a pocket in his backpack, according to the report. He didn't comment about the weed.
Officers booked Harmon into the Alachua County Jail at 7:20 p.m., where he remains as of press time in lieu of a $125,000 bond.
A 26-year-old woman stopped for speeding in Waldo on Saturday was arrested after police say they found numerous pieces of crack cocaine hidden in her underwear and in her genitals.
Tracy Lynn Irvin, of 4863 SW 19th Way, Gainesville, was stopped at around 4 p.m. on U.S. 301 after Waldo Police Officer Kenneth Smith saw her speeding and failing to stop her vehicle at the appropriate marker, according to a police report.
Irvin, who was driving a 2008 silver Dodge Charger, did not immediately pull over, the report said. After she stopped, Smith gave her a verbal warning for the traffic offenses.
He then asked for permission to search the Charger and Irvin agreed.
Smith said he noticed small pieces of a white substance on the driver's seat as well as pieces stuck to her blue jeans and smeared on her shirt.
Irvin admitted to Smith the substance was crack cocaine and said that when she realized she was being pulled over she tried to hide the crack inside her underwear and her person, according to the report.
A female officer responded to the scene and found numerous pieces of crack cocaine in Irvin's private area, the report said. More pieces were found by corrections officers at the jail, according to the report.
Irvin told police she had never used crack cocaine, but was delivering the drugs as a favor.
Irvin was arrested on a charge of possession of a controlled substance, possession with intent to sell, and possession of dangerous drug. Irvin was on felony drug offender probation and was additionally charged with violation of probation.
She was being held in the Alachua County Jail Sunday afternoon on a $20,000 bond.
Drugs and an unusual bulge were discovered by Osceola County Sheriff's deputies in weekend gun arrests.
When a sedan was stopped for speeding Sunday morning near Celebration, a deputy noticed the front-seat passenger became increasingly nervous and wouldn't look him in the eyes, the arrest report of Julius Cesar Ahumada stated.
"During this time I noticed an unusual bulge in the front area of his waist band," the deputy wrote of asking the man if he had any weapons. "Mr. Ahumada did not respond…While conducting the pat down I located a black Taurus .38-caliber revolver."
The search also found $200 in 20 dollar bills and $50 in one dollar bills, along with packets of marijuana as well as a tranquilizer. When asked about the drugs, Ahumada, 18, of Kissimmee, responded, "I have to make money somehow."
He was charged with carrying a concealed firearm, possession of drugs with intention to sell, use of a firearm during a felony.
Hours earlier, a car with a burned-out tail light caught the attention of another deputy on North Orange Blossom Trail who noticed the driver and passenger were not wearing seatbelts.
Despite being followed by the patrol with its red-and-blue emergency lights flashing, the car continued moving until a shiny object flew out of the passenger window near the corner of Donegan and Donjay avenues.
"Upon searching the immediate area…I observed a silver and black SCCY 9 mm firearm lying on the ground," the deputy wrote of finding what appeared to be stolen pistol. "I noticed the serial number was missing and had been filed off."
The driver, Victor Quintana-Diaz, 34, admitted having held the gun but said passenger Dominic Melendez-Davis, 24, threw it. They were charged with possession of a weapon by convicted felons and tampering with evidence.
Winter Illness
We're curious about how doctors say that cold weather doesn't cause cold and flu. Marianne says she and her friends were never sick, but people are always ill here in Rochester.
Wease talks again about the death of his friend Faith Tantalo, who passed away yesterday from the flu.
Doug With News
- More Snow Expected To Hit Northeast
- Maplewood Neighbors Worried About Violence
- Jazz Fest Headliners Announced Tuesday
- Hoffman Autopsy Results Expected Soon
Jesse Ventura
Wease talks to our favorite writer, politician, conspiracy theorist, TV personality, pro wrestler, activist, actor Jesse Ventura.
Jesse has a new TV show called "Off The Grid" which can be viewed online. More info on it can be found HERE. Ventura talks to us about some of the things he thinks the government is hiding from us, including coverups regarding 9/11, and the medical industry.
Bonus Content... A Day In The Life Of A Porn Star
Woody Allen Controversy
Dylan Farrow, the adopted daughter of Woody Allen and Mia Farrow, wrote an open letter that was published worldwide this past weekend. She wrote about sexual abuse inflicted on her by Woody over her lifetime.
Woody Allen was never prosecuted in this case and has consistently denied wrongdoing, and is presumed innocent, but if what she says is true it's absolutely sickening. Her words are shocking and powerful.
You can read the scathing letter HERE. How does this affect your enjoyment of Allen's films? Does this stop you from enjoying them? Does this unjustly condemn other people involved in his movies, even though they had nothing to do with the alleged abuse? Will actors be willing to work with him in the future after this?
Cate Blanchett is deserving of an Oscar this year for "Blue Jasmine". Will she be punished because of Woody? Will he be booed at the Academy Awards?
Pauly's 9-1-1 Call
This weekend Pauly called 911 because he was worried about his upstairs neighbor. The guys car hadn't moved in a few days, and had a couple tickets on them. Because the neighbor had a history of drug issues and having ambulances come to his place Pauly was concerned, but rather than knock on his door and say "hey are you ok?" Pauly called 911. It turned out to be a false alarm.
Wease and Marianne wind up making fun of Pauly G. and his paranoia. Pauly is moving in a couple months and still won't park in his driveway, which Wease is obsessed with. Googs has come up with a plan for not paying his final month of rent though. Good luck bro.
The Real Super Bowl Loser
Last month, a store in Houston called Gallery Furniture lost $685,000 on a promotion where customers could win FREE FURNITURE if they correctly guessed the winners of the AFC and NFC championship games.
After that, owner Jim McIngvale said he was DONE with promotional contests. But apparently he changed his mind . . . because he decided to offer an even CRAZIER deal.
Jim chose the Broncos to win the Super Bowl by FLIPPING A COIN. Then he promised that if the Broncos LOST, he'd issue full refunds to anyone who bought more than $6,000 worth of furniture, and you'd still get to KEEP the furniture.
Well, about a THOUSAND people took him up on the offer, and of course the Broncos DID lose . . . which is going to cost him about $7 MILLION. And he didn't buy an insurance policy on the contest, so it's all coming out of his own pocket.
Jim is trying to PRETEND it doesn't bother him though, saying he's happy for the publicity and that, quote, "In the long term, we made a lot of happy customers. That's what it's all about. Building customers for life."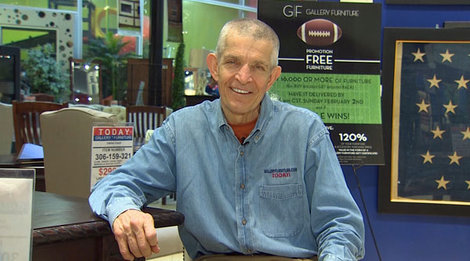 TV Discussion
The Super Bowl averaged 111.5 million viewers . . . once again setting a new, all-time TV ratings record. The previous record was 111.3 million, which Super Bowl 46 set in 2012. BRUNO MARS also scored a record high for Super Bowl halftime shows, with an average of 115.3 million viewers.
Naturally, "New Girl" and "Brooklyn Nine-Nine" did well in the coveted, post-Super Bowl timeslot. Together, they averaged just over 20 million viewers, which is pretty much exactly what "Elementary" had after last year's Super Bowl.
The biggest post SB show ever was Undercover Boss, which Pauly loves and Marianne hates, and leads to a discussion of what quality TV is. Wease talks about the internship his son Sammy is applying to at NYU for film school, and how he's worried about his kid if he has to go to NYC.
Porn Star Birthdays
Happy Birthday to Kelly Erikson and Sahara Knite. You may know Knite from such fine films as. but you can pretend to know her from her role as Armeca on "Game Of Thrones". Turns out she's also a really good guitar player, and can see video of it HERE. Be careful, this video is still NSFW because she intersperses her playing with nude poses.

Hear the WEASE SHOW on Radio 95.1 in Rochester NY and on iHeartRadio, every weekday from 5am to 12pm, until we finally decide that waking up every day at 3am is just plain stupid.