Wease Show Rundown 6-3-14
A Weird Walk Down The Aisle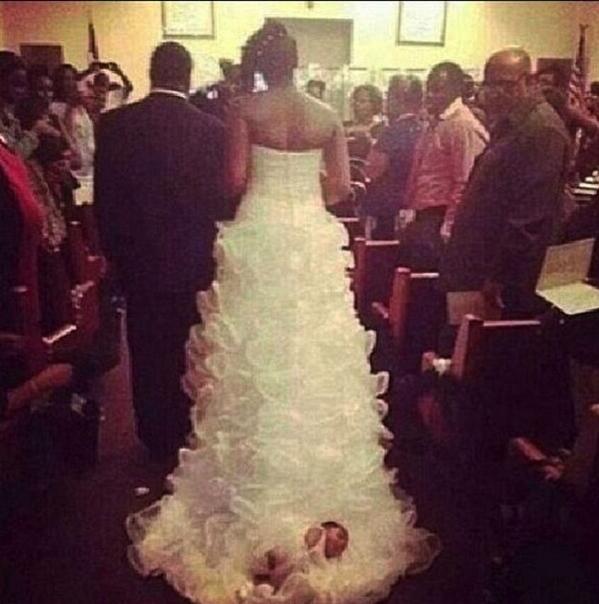 We start the morning talking about a story that went viral yesterday… the woman that walked down the wedding aisle with her baby secured to the back of her dress. Wease says he's the only one defending this lady, and if you read this article you might believe that… a lot of hate for this couple. It looks pretty funny, but it'd at least make the church interesting, and give you something to talk about.
Wease Movie Review
Wease and his son Sammy went to the movies last night. They saw the Seth McFarlane film "A Million Ways To Die In The West" and loved it. Wease says it's really dirty, even though there isn't any nudity or on screen sex, but some of the nastiest sex talk you'll ever hear. Even though Wease is a fan of both this and "Ted", Seth's other movie, he still won't watch McFarlane's TV Show "Family Guy" because it's a cartoon.
Tools
- Will the Buffalo Bills become The Niagara Bills? That'll be the case if Jon Bon Jovi and Toronto businessman Scott Tannenbaum has his way. How come Wease and Billy are the only ones in the room that know the song "Oh Tannenbaum"? You'd think Christmas music would be above "Geezers vs. Douchebags".
How weird would it be if the Bills switch names, and win the Super Bowl the first year?
- Dan Marino Sues The NFL Over Concussions. Is he looking for money since he lost his CBS gig. Did you see the pic of Marino hanging out with Jim Kelly in the hospital a couple days ago?
Here is the video that just distracted Wease... a plane making a landing on the beach and almost hitting someone...
Redneck News
Newark Village Police reported the arrest on Wednesday (5/28) of Justice Morris, age 19, of West Miller Street in Newark for Assault in the 3rd Degree.

It is alleged that, on April 18th, Justice punched an­other girl in the face, then hit her in the face with a brick, giving the girl a black eye, requiring two stitches to close up a wound.

Justice will find justice in Newark Village Court on June 18th.
Lyons Village Police reported the arrest on Tues­day (5/27) night of An­tionette Ster­gis, age 23, of Phelps Street in Lyons for one count of Petit Larceny. It is alleged Antionette stole $ 20 from her twin sister, Antionae over at her resi­dence on Wil­liam Street. Antionette was arraigned and re­manded to jail. C'mon, do ya really gotta bust your twin sister? I wonder if the twin has the bright red hair too.
State Police in Williamson respond­ed to a disturbance on Monday (5/26) at 12: 32 p. m. of a sort of a domestic incident on Ridge Road in Williamson.

It all began when Lekia Logins, age 20 and her sis­ter, Leporian B. Logins,age 23, of 55991 Route 14 in Sodus showed up at the home of Christo­pher L. Wil­liams, age 29, of 4359 Ridge Road in Wil­liamson, un­announced to pick up cloth­ing and other items that be­longed to one of the sisters that had been dating Wil­liams.

Unfortu­nately, the new girlfriend of Williams was present, and that led to a brouhaha. Lekia was subsequently arrested for Trespass and Harassment in the 2nd Degree.

Leporian was charged with Tres­pass, Harassment in the 2nd Degree, Petit Larceny for allegedly taking clothing and shoes belonging to Wil­liams, and Endangering the Welfare of a Child.

Not to be outdone, Williams was charged with Harassment in the 2nd Degree and Criminal Obstruction of Breathing. He will appear in William­son Court on June 11th.

Lekia and Leporian will appear on June 18th.
A 29-year-old woman was arrested in Ocoee this weekend, accused of threatening her sister with a kitchen knife for refusing to help her get beer.
Amber Michelle Orman faces charges of aggravated assault with a deadly weapon and child abuse, records show.
According to an arrest affidavit, police arrived at her Old Winter Garden Road apartment Sunday night to find her screaming at her sister "and approaching her in a threatening manner."
After separating the pair, an officer spoke to the sister, who said Orman had asked her for a ride to the store to pick up beer.
When the sister refused, Orman "said she was going to get a knife and stab me to death," went to the kitchen and armed herself with a large knife, then "started swinging it at me screaming she was going to kill me," Orman's sister told authorities.
When Orman's nephew called 911 to report the attack on his mother, Orman started pulling his hair in an attempt to take the phone from him, the arrest paperwork says.
According to the affidavit, Orman said her family had attacked her "for no reason," and she'd grabbed the knife to defend herself. She was arrested and booked into the Orange County Jail early Monday.
Doug With News
- Friends Puzzled By Store Owners Arrest
- Firefighter Injured In Hit and Run Crash
- Charlotte Residents Concerned About Safety
Rochester Terrorist
More details has come out about Mufid Elfgeeh, the local store owner that was arrested earlier this week, and how the bust went down. We don't know if we could be undercover... what if you start to sympathize with the bad guys, or can't keep your cool in stressful situations.
Lunch With Mr. NFL
The Wease crew at lunch yesterday... Mr. NFL not pictured because he doesn't like his picture taken.
Thanks to regular listener Mr. NFL for inviting us to lunch yesterday. Had a great meal at the City Grill with the whole crew. Pauly and Billy had a discussion afterwards where they had the feeling he had invited just Wease, and Wease brought everyone else along. After talking to him on the phone we're still a little confused about what he was expecting... by the end of the conversation the joke is that everyone but Marianne was invited.
Hero Of The Day
A Utah man didn't just sit back and watch as a teenager's joyride almost killed a few people: he used his truck to end to a high-speed police chase in Syracuse, Utah on Saturday after a stolen car nearly hit children who were playing in Founders Park. And there's video!
According to KSTU-TV, Bryson Rowley intentionally hit the stolen car, which was being driven by a 14-year-old who stole it from his grandfather – his action ended the dangerous chase. "The person driving the truck could see it was turning back into the park," Officer Erin Behm of the Syracuse Police Department told FOX 13. "And he did not want the car to hit all of the children, or any of the children, and he actually pulled his truck in the way so the car collided with the truck."
Scout Willis #FreeTheNipple
Scout Willis, the 22-year-old daughter of Bruce Willis and Demi Moore, caused a stir last week when she posted pictures of herself topless around New York City calling for people to #FreeTheNipple. Now, probably with a shirt on, she's explaining what prompted the stunt and why she wanted to start a conversation.
"Earlier last week I decided to do something kind of crazy," she wrote on XoJane.com. "Instagram had recently deleted my account over what they called 'instances of abuse.' Which in reality amounted to a photo of myself in a sheer top and a post of a jacket I made featuring a picture of two close friends topless. For these instances of abuse, I was politely informed that I would no longer be welcome in the Instagram community."My situation was in no way unique; women are regularly kicked off Instagram for posting photos with any portion of the areola exposed, while photos sans nipple—degrading as they might be—remain unchallenged," she continued. "So I walked around New York topless and documented it on Twitter, pointing out that what is legal by New York state law is not allowed on Instagram."
Go Here for Scout Willis' Twitter crusade.
Bonus Content... Best Pun Stores
A teenage girl who was suspended from school recently for wearing denim short shorts has publicly challenged the school dress code, declaring it sexist.
Lindsey Stocker, an 11th-grader at Beaconsfield High School in Quebec, Canada, says that she and several female classmates were asked to stand up for an outfit inspection during class. The girls were instructed to put their arms by their sides so school officials could assess whether the bottom of their shorts or skirts lined up with their fingertips. If their fingers reached beyond their hemlines, the girls would be considered in violation of the school's dress code.
"When I started explaining why I didn't understand that rule, they didn't really want to hear anything I had to say, and it was in front of my entire class. I felt very attacked … and I wanted to tell them how I felt," Lindsey told Canadian news outlet CBC. "They should approach it in a way that doesn't target girls at least — for starters — because that's the first problem. They don't really care what guys wear. They just kind of target the girls first."
After Lindsey failed the inspection, she left class and printed 20 sheets of paper that read…
This leads to a discussion of shorts, and what types are appropriate when and where. Are Marianne's shorts ok? We like them...
Wease winds up calling Doreen to talk about the length of the shorts their daughter Lucy wears.

Hear the WEASE SHOW on Radio 95.1 in Rochester NY and on iHeartRadio, every weekday from 5am to 12pm, until we finally decide that waking up every day at 3am is just plain stupid.