Wease Show Rundown 8-12-14
R.I.P Robin Williams
The HUGE story of the day is the death of legendary comedian/actor Robin Williams, apparently of suicide. We all have thoughts and memories of Robin, and will be discussing his life and death throughout the morning.
We talk about the spread of the news on social media, and the out pouring of love on Twitter and Facebook, with everyone bringing up their favorite movie/TV show that Williams did.
Wease- Good Morning Viet Nam
Marianne- The Fisher King
Pauly- Good Will Hunting
Billy- The World According To Garp (Although if he was being honest he'd say Popeye)
Tools With Sports
Wease and Johnny talk about last night's Yankees/Orioles game. Wease was watching at poker, and was happy to see the O's put an 11-3 whupping on the Yanks.
The police are investigating an assault charge against former Buffalo Bill Marshawn Lynch
The Rochester Red Wings completed a unique no-hitter yesterday. The game started in Durham a couple weeks ago where the played the first 3 innings. The last 6 were yesterday in Rochester. The Red Wings won 3-0.
Redneck News
On Tuesday (8/5) at 9:00p.m. the Macedon Police reported the arrest ofShirley A. Jeffries, age 71, and her son, Warren D. Jeffries, age 43, both living on Vic­tor Road in Macedon.

Warren was upset about what Shirley made for din­ner and an argument en­sued. Shirley get upset and found her husband's handgun, entered Warren's bedroom, and demanded Warren talk to her. Warren was able to wrestle the handgun away from Shirley.

When the police arrived they locat­ed Warren in his bedroom. Warren had armed himself with a shotgun and an assault rifle, which is illegal to pos­sess in New York State.

Shirley Jeffries was arrested for Menacing in the Second Degree and was released on her own re­cognizance, her son Warren was arrest­ed for Criminal Possession of a weap­on in the 3rd degree and remanded to Wayne County Jail. They will appear in court at a later date.
Marianne says it's weird that the mom was cooking dinner, and that he should make his own food. Wease, Pauly, and Billy all agree that their moms loved waiting on them, even as grownups.
State Police out of Wolcott respond­ed to the report of a suspected burglary in progress at an abandoned house at 6542 Waters Road in Wolcott at 9:33 p.m. on Tuesday (8/5).

When the Troopers arrived, the property owner said he saw lights in the house and heard the sounds of something breaking inside.

Police discovered a shaky structure and unsound floor boards and proceed­ed with caution. On the second floor they found two individuals, sitting on the floor and scared, with a sack of items taken from the house. They told police they did the heist "On a dare" and were afraid after police announced they had a police dog they were going to release into the building.

Charged with Criminal Possession of Stolen Property in the 5th Degree, Burglary in the 3rd Degree and Crimi­nal Mischief in the 4th Degree were Ronald R. Gonyeau, age 24, of Wa­ters Road in Red Creek, along with a 14 year-old juvenile.
Wease thinks Gonyeau looks like Ben Stiller.
Robin Williams Reactions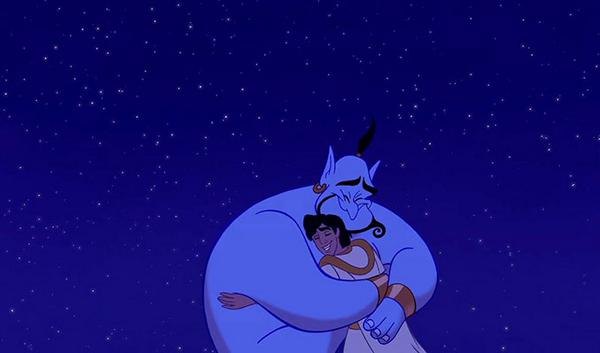 "Genie, You're Free"
Wease has piles of prep and stories regarding Robin Williams, and he thinks the best thing he's read about Robin is today's piece written by Bob Lonsberry. Read it HERE. Genius.
Marianne talks about comedians she know that are depressed, and the "sad clown" phenomenon.
This is a piece Billy has always remembered since he first saw it on "Mork and Mindy" in 1981. Pay attention to the last 2 minutes.
And then Mork's followup report to Orson back on Ork. It's chilling.
More About Robin Williams
Our buddy Bobby Slayton calls in because he was very good friends with Robin Williams. He has some very sweet rememberances, starting in standup together in San Francisco, taking his daughter to meet him when Robin was playing Peter Pan in "Hook", and Peter Pan was her favorite.
Wease also speak with Marshall Fine about the film career of Robin Williams, and the times he has interviewed him. Marsh picks "The Birdcage" as his favorite film, and also discusses the recent problem Williams was suffering from.
Phil Collen
We speak to Phil Collen from Def Leppard, calling to promote this week's gig with Kiss at Darien Lake. Wease talks about promoting Def Leppard gigs at the Triangle Theater, and leads to conflicting stories about years, opening acts, venues, etc... Also, the story of how Def Leppard unwittingly took the line "better to burn out than fade away" from Neil Young.
Bonus Content... Photos That Rock
Peyton and Eli Manning made another rap video. This time, it's about Fantasy Football. There are dancers, creepy Joe Namath, and Mannings in space!

Hear the WEASE SHOW on Radio 95.1 in Rochester NY and on iHeartRadio, every weekday from 5am to 12pm, until we finally decide that waking up every day at 3am is just plain stupid.