Wease Show Rundown 8-18-14
Let The Week Begin
Over the weekend Wease and comedian Jimmy Shubert took part in the best produced "Ice Bucket Challenge" so far... a two camera shoot thanks to his son Jake.
Amish Update
More details are coming out about the kidnapping last week of two Amish girls in Oswegatchie. St. Lawrence County District Attorney Mary Rain said Sunday that computer hard drives and other evidence were still being collected from the home of Stephen Howells Jr. and Nicole Vaisey. The pair was arrested Friday and charged with kidnapping with the intent to physically or sexually abuse the 7-year-old and 12-year-old sisters.
It's being said that now the Amish farmers are closing their fruit stands in the area because of the crime.
Harry Gibbs Sports
Harry filling in for John Ditullio. Wease and Harry talk about the LPGA tourney in Rochester, and how it's sad that after 38 years the women's pro golf tour is leaving our city.
When Harry says he loves watching men golf, but not women. Wease disagrees, and says Harry may be gay because of it.
Bills fans are already frustrated with the team after this weekend's 19-16 loss to Pittsburgh. Star wide receiver Sammy Watkins was hurt on a play that didn't look that bad. If Sammy hurt his ribs on that he'll be a parapalegic by the end of the season.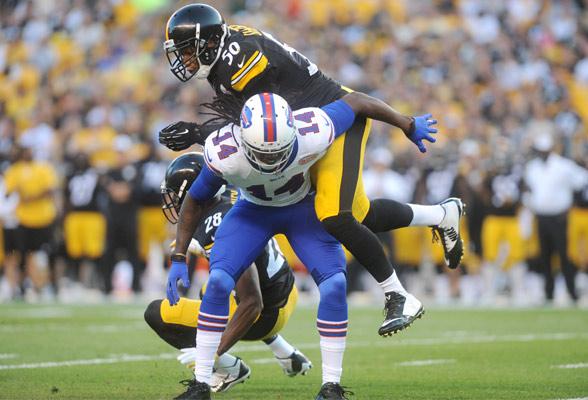 Rachel Barnhart Vs. The Ice Bucket Challenge
The local queen of all media Rachel Barnhart caused a social media firestorm by refusing to take the "Ice Bucket Challenge", and posting her views on it HERE.
Rachel has been challenged a bunch of times, and did donate $10, but doesn't like the peer pressure part of the challenge. We think creepy guys just want to see her in wet tshirt.
In a bizarre twist to the "Ice Bucket Challenge", the man that started the challenge died this weekend while celebrating the success of the campaign.
According to The Daily Mail, Corey Griffin – whose friend, Pete Frates, inspired the campaign – died after diving into the water in Nantucket, Massachusetts. Witnesses say the 27-year-old was celebrating when he jumped off the Juice Guys building into the water where he floated to the surface. He went under and didn't resurface. He was pulled out of the water and declared dead at 3am.
Doug Emblidge News
Doug is back after a week of vacation. Welcome back.
- LPGA's Departure Leaves Many Guessing
- More Charges Planned Against Kidnap Suspects
Bonus Content... Ways Smart Phones Wreck Your Life
Mike Catalana
The 13 WHAM's sports man joins us to discuss the two big local sports stories.... The LPGA and the Bills preseason game.
Mike thinks the only way LPGA golf comes back to Rochester is occasionally as a major, but we will no longer be a regular tour stop. Wease wants to know if tourney winner Inbee Park is hot. Mike says she is a wonderful lady.
On the Bills front things continue to be shaky. The offense in mediocre at best, although things seem good except for the QB situation. Unfortunately the QB is kind of important. Mike says not to worry about Sammy Watkins, he's the least of our worries.
Sierk Slime
Jackie Nutt is out sick today, so Marianne is giving us the Hollywood news.
She starts with the news that Ron "Arnold Horshack" Palillo died over the weekend. Thanks to the listeners who tell us Palillo died two years ago.
- Stevie Nicks Invites Fans To Design New Shawl
- Jared Leto Still Hasn't Seen Dallas Buyers Club
Grumpy Man Meets Grumpy Cat
Wease read an article this weekend about internet sensation Grumpy Cat and it's owner Tabatha. Wease thinks it's funny that the owner looks like the cat.
Marianne says her friend Stacy is addicted to Grumpy Cat, and has entered a contest to meet the feline.
This leads to a discussion of a couple ugly videos that went viral this weekend, and Wease saw them. They include a kid being beat up, and another that showed a dog being abused. We think these are heinous, and don't understand the reason they exist.
Bonus Content... Banned License Plates
Importance Of Abby Wambach Award
Wease reads, and comments on, an article in this Saturday's Rochester Democrat and Chronicle about the award Abby Wambach received this weekend. The soccer star had the field at Mercy High School, where she graduated from, named after her.
D&C writer David Andreatta wrote the article discussing how progressive Mercy was as a Catholic school giving this award to an out lesbian.
War Machine Captured
On Friday, police in Simi Valley, California [outside Los Angeles], along with U.S. Marshals,captured MMA fighter War Machine at an Extended Stay hotel… He was in his room with a pizza and a small amount of cash. And according to TMZ, he apparently didn't put up a fight.
As you know, dude's been on the run for over a week -- when police say he "allegedly" beat down his ex-girlfriend, porn star Christy Mack [star of "Hall Pass Ass," "Cram Sessions" and "Oil Overload 10"] and her new boyfriend Corey Thomas at her home in Las Vegas.
When the police went to War Machine's home this weekend in the San Diego to remove two of his exotic pet snakes -- Dog the Bounty Hunter was also there. Missed him by "that" much.
Pauly Kicked Out
Pauly got kicked out of one of his Fantasy Football leagues over the weekend, and tells us about the disagreements he had with the league commissioner last year. Even though Pauly finished 3rd last year he basically was replaced because the other owners didn't like the way he ran his team.

Hear the WEASE SHOW on Radio 95.1 in Rochester NY and on iHeartRadio, every weekday from 5am to 12pm, until we finally decide that waking up every day at 3am is just plain stupid.