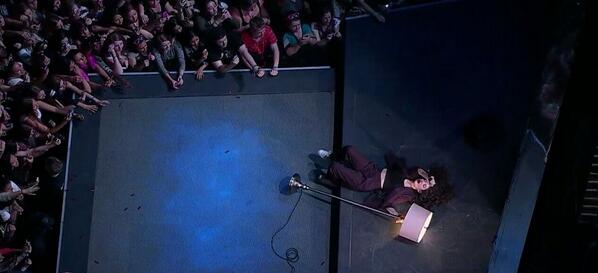 17-year-old singing sensation Lorde knows how to light up a stage.
Check her out at last night's Much Music (Canadian equal to our MTV) Awards show. Lorde performed while laying on stage with a floor lamp.
While most teens her age are happy school is ending, Lorde's career is just starting to skyrocket and she can pretty much do anything she wants on stage. #LordeShines

Born in Canandaigua NY, Pete Kennedy grew up the youngest of 5 Irish kids of Marian and T. Hamilton Kennedy. His dad "Ham" was elected as Mayor of the city of Canandaigua and served 14 years while his youngest son Pete stole the title "Mayor". Ham earned the title and Pete pilfered it.

Pete helped a bunch of his buds at St. Marys School to found an actual radio station that played music over the PA system during lunch. Many of the nuns were less than impressed by the musical selections this young mob played over WSMR. Later, "Mayor" also served as captain of his beloved Canandaigua Academy football team the Braves.

After successfully graduating from SUNY Geneseo where he spent many hours "studying" humanity while DJing and bartending at the world famous Inn Between, he somehow bribed a radio dude to hire him. Check him out daily on your Drive home.