Wease Show Rundown 1-23-14
Pittsford Shooting
We start off by talking about the area's biggest story...
Monroe County Sheriff's Deputies have released the name of the suspect in the deputy involved shooting in Pittsford Wednesday afternoon.
Sheriff's Deputies say the suspect is 22-year-old Vincenzo Zagari of Ogden.


Zagari is currently in guarded condition at Strong Memorial Hospital.


This all began after deputies responded to a call for shoplifting at the Pittsford Wegmans around 4 p.m. Wednesday.


Deputies say Zagari crashed a stolen car he was driving into another vehicle in the Pittsford Plaza parking lot, then attempted to carjack a woman at gunpoint.


News10NBC is told Zagari then ran across Monroe Avenue.


Police say he flashed a weapon at a deputy, which prompted the deputy to shoot Zagari.


Several charges are pending against Zagari, including larceny from Wegmans, possession of a stolen vehicle, attempted aggravated assault against a police officer, resisting arrest and menacing.
The Monroe County Sheriff's Office said they previously arrested Zagari back in June 2012 for the shooting of Angel Figueroa in the town of Wheatland. News10NBC is told Zagari was charged with first degree assault and criminal possession of a weapon. He is currently on probation for that crime.
Jackie Nutt went to high school with this kid, said he was a good dude, and one of the best high school wrestlers in the city, but things went downhill for him after high school when he started hanging around with bad people.
Wease also breaks down the wording of the newspaper article about this story, noticing bad wording that none of the rest of us do. We realize that if Wease wasn't a radio genius he'd make a great editor.
Tools With Sports
The Winter Olympics start in Sochi, Russia in a couple weeks, and while the big story is about pontential terrorism The Wease Show is fascinated by a different aspect of the Games... the bathrooms. BBC correspondent Stene Rosenberg tweeted out this photo of a men's room reportedly located in the Olympic Biathlon Centre in Sochi: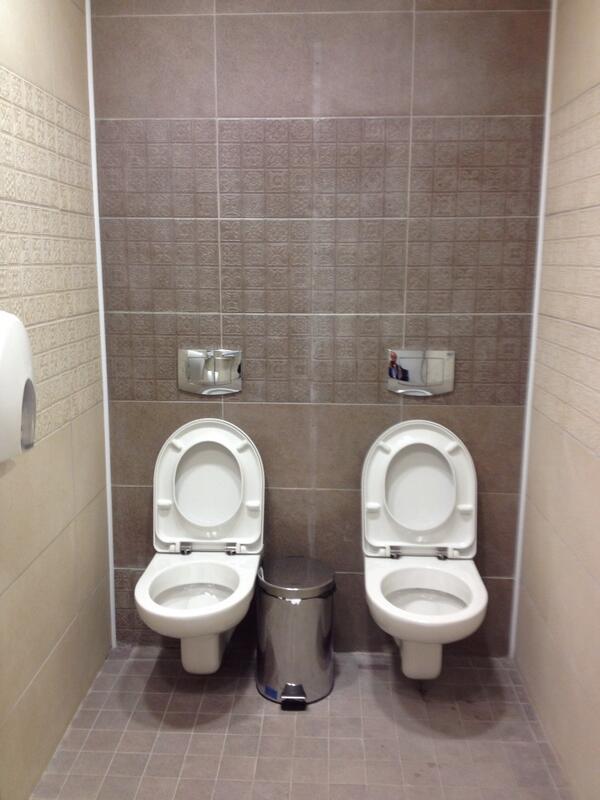 This leads to Wease telling stories of pooping next to guys in the army, and watching Vietnamese poop in the fields and not wiping. Gross.
Former NFL QB Vince Young was the 3rd overall pick in 2006, and is now BROKE... he got cut by the Bills in 2011. How did he go downhill so quickly.
Earlier this week, there was a report showing how the word "thug" was ALL OVER TV . . . thanks to the media freak-over over RICHARD SHERMAN'S emotional rant after his Seattle Seahawks beat the San Francisco 49ers last Sunday.
Well, Sherman was asked about it yesterday, and here's what he had to say:
"The only reason ['thug'] bothers me is because it seems like it's the accepted way of calling somebody the N-word nowadays . . . it's kind of disappointing, because they know. What's the definition of a 'thug' really? . . .

"Maybe I'm talking loudly . . . talkin' like I'm not supposed to . . . [but I saw] a hockey game where they didn't even play hockey, they just threw the puck aside and started fighting. I saw that, and said, 'Oh man, I'm the thug? What's going on here?'"
He added, quote, "I know some 'thugs,' and they know I'm the furthest thing from a thug. I've fought that my whole life, just coming from where I'm coming from."
Tools asks a good question... when white Richie Incognito was bullying a black teammate earlier this season how come he wasn't termed a "thug"?
Amish Paradise
Wease tells us this story of a young girl getting court ordered chemotheraphy over her parents objections for religious reasons. Wease is on the court's side because this is the only way to save the girl's life, but since it's not an absolute guarantee to work Marianne see's the parent's point of view, and doesn't like the interference of the court.
Those crazy Amish.
Doug With News
- Arrest Made In Pittsford Shooting
- Warren Attending Conference In DC
- Man Arrested For Crack Possesion
- Bieber Arrested Drag Racing Under The Influence
In A World
Wease saw a film last night starring Lake Bell called "In A World", a drama about the people that make movie trailers. Pauly and Wease both think Lake Bell is hot despite not being classically beautiful. Wease refers to her "Jewish nose". Turns out her dad is Jewish, and mom is Protestant.
Lake Bell's Year Of Nudity...
Witness To Pittsford Incident
We speak to a Shawna, friend of Jackie Nutt's who was working at Moe's in Pittsford next to the Wegmans and McDonalds where the shoplifting/shooting incident happened yesterday. She describes the scene, how things were closed down, the police there, and time spent with the kid, because like Jackie she went to high school with the kid involved.
American Idol
Have you seen "American Idol" this year? The numbers are down, and it seems during the auditions they're focusing less on the bad, funny contestants... and also how well the judges get along, as opposed to fighting like in years past.
Marriage Classes
As if getting married wasn't complicated enough, a proposed ballot initiative would require mandatory pre-wedding education before couples could say "I do."


The proposed Colorado Marriage Education Act calls for 10 hours of pre-wedding marriage education.
If either the bride- or groom-to-be is marrying for the second time, the requirement kicks up to a minimum of 20 hours. It goes up to 30 hours for a third- time's-the-charm.
A re-marrying widow would be held to the same standard as a first-timer. The law would not apply to civil unions.
This leads to Wease taking on the role of marriage counselor, and answering some questions for Pauly about how to stay happy in a relationship because he and Doreen are so good at it.
Renee Graziano From Mob Wives
We speak to Renee Graziano, star of the VH1 reality show Mob Wives about her life, mob ties, her cookbook (pictured above), her recovering addiction to Xanax, her love life, and other stuff. Very funny and interesting... Wease has never seen the show, but is now dying to watch.
No Grammy For You
Can you believe these iconic artists have never won a Grammy?
Chuck Berry- This leads to a debate about Chuck's biggest hit "My Ding A Ling"
Guns n Roses
Led Zeppelin
Queen
Jimi Handrix
Janis Joplin
Bob Marley
This leads to a discussion of artists who didn't deserve the Grammy they got, like Jethro Tull for Heavy Metal, Milli Vanilli for Best New Artist, and songs like "Who Let The Dogs Out".
Wease hears the current hit "What Does The Fox Say" for the first time.

Hear the WEASE SHOW on Radio 95.1 in Rochester NY and on iHeartRadio, every weekday from 5am to 12pm, until we finally decide that waking up every day at 3am is just plain stupid.