Wease Show Rundown 1-24-14
Pittsford Update
We start the day talking about the twists and turns in the story around the shooting on Monroe Ave. of Vincenzo Zagari. Family are saying they "shot him like a dog", while the police talk about the "bag of weapons" being held by Zagari.
You can read the whole story HERE, with all the conflicting details, like the poeple that say Zagari was a good kid.
One of the weird little things about the details in that the story started with Vincenzo shoplifting a map from Wegmans... who needs a map nowadays?
Tools
Wease asks John about something said by Tools while Wease was on vacation a few months ago... that after pooping John only wipes once, and doesn't look to make sure he's done. Tools is backing off the "wipes once", but is standing by the not looking. (No Picture Available)
Wease busts one of our prep services for a false piece of info that says that both the winner and loser of the Super Bowl get rings. Wease doesn't believe that the losers get rings, and he is correct.
What is Tools gonna do without football this weekend? Hoping there is a Clint Eastwood, Godfather, or another many movie marathon.
Tyler Doohan Update
We speak to Theresa Fioarica, the organizer of the fundraiser to pay for the funeral of 8 year old hero Tyler Doohan, who was killed saving family members from a trailer fire in Penfield.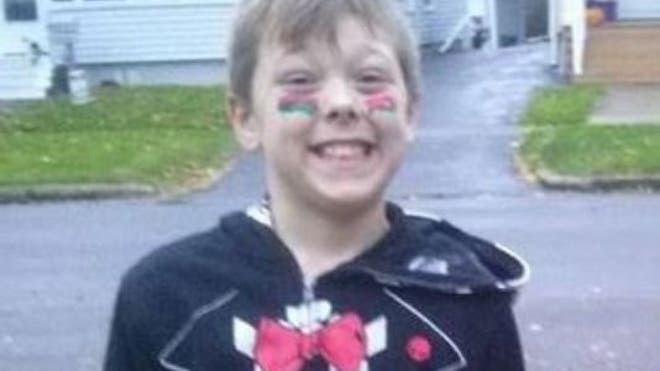 Theresa talks about what a great kid Tyler was, how he would play with her kids, her motivation behind creating this charity, how almost $50,000 has been raised, and the squabbling among family members about who should receive the funds. Theresa is a great woman who has done a wonderful thing, and if you'd like to donate you can do so HERE.
Marshall Fine Film Reviews
I Frankenstein... Aaron Eckhart plays Frankenstein's monster, who's still around 200 years later and now calls himself Adam. It's based on a graphic novel about a demon who wants to use Adam to figure out how to raise an army of reanimated corpses for demons to possess.
Bill Nighy from the "Pirates of the Caribbean" movies plays that demon, Yvonne Strahovski from "Dexter" is a doctor tricked into helping him, and Miranda Otto leads an army of gargoyles sworn to protect humanity from the demonic horde.
(Check out a few pages from the graphic novel here.) Marsh didn't get a chance to see it before going to Sundance, but it's got a great cast, and Billy is the show's comic book guy, so may have to go.
Gimme Shelter... No, not the classic Rolling Stones concert film. Vanessa Hudgens is a pregnant teenager who runs away from her drug-addicted mom and ends up on the streets. Brendan Fraser plays her father, Rosario Dawson is her abusive mom, and James Earl Jones is one of the people who try to help her. A well acted, but depressing fim. 3 stars.
Doug With News
- Family Of Pittsford Shoplifting Suspect Speaks
- Arson Suspected In Overnight Fire
- Assini To Challenge Slaughter
Earl David Reed
We're joined in studio by Wease's old sidekick Earl David Reed, who is performing at The Comdy Club this weekend. We talk about the good old days, skinny dipping at a comedy gig in Batavia,going to Miami for Bills games when they were good, Earl's time working at a country station in Pennsylvania, and being an All Star Of Country Comedy.
Poop And Puppies
The story of a little girl being saved from drowning in a septic tank raises a few questions. Would you dive into poop to save a life? How about a dog? This leads to Wease and Earl talking about how hard it was to put their ailing dogs to sleep.
Bad Boy Biebs
JUSTIN BIEBER was released from jail yesterday, after being charged with DUI, resisting arrest, and driving on an expired license. He posted a "standard" bail of $2,500 . . . and while he was leaving, he sat on top of a vehicle and waved to his fans, like a beauty queen or something.
Regardless, if Twitter is any indication, not many celebrities have Justin's back. Actually, a lot of them are making fun of him . . . and a few even took SHOTS at him. Here are some that caught our eye:
Seth Rogen: "All jokes aside, Justin Bieber is a piece of [crap]." He actually said the S-word.
"Supernatural" star Jared Padalecki: "Just saw the mugshot . . . I gotta admit, she's kinda hot without all of her usual makeup on."
Jason Biggs: "50 in a 30. Jesus, Bieber even drag races like a [P-word]." He actually said a word that rhymes with "wussy."
Zach Braff: "I'm nervous for Justin's anus in jail. #FreeBieber."
The account for Netflix's prison show "Orange is the New Black": "We've got an open bunk for you, Justin Bieber."
Mario Lopez: "Justin Bieber mugshot . . . he MUST be high . . . he thought he was at a Teen Beat photo shoot."
Actor Adam Rose: "Shhh. I think this is the part where Justin Bieber shaves his head."
Michael Ian Black: "Doesn't Hollywood have any original ideas? I've seen this Bieber movie so many times."
Josh Groban: "'I sentence you to free credibility . . . in the world you are actively trying to gain credibility in.' -- judge to Bieber."
Lisa Rinna: "Baby, Baby, Baby, NO!!!!!! Like Baby, Baby, Baby, say it isn't SOOOOO!!!!!!"
Keyshawn Johnson . . . the former NFL player who moved out of Justin's neighborhood after complaining about what a nuisance he is, and how he's always speeding down their street: "They finally caught HIM! . . ."
Kung Fu Fighting
Self Defense Expert John Ingalina joins us in studio to talk about the various things you can do to protect yourself. John knows and teaches many kinds of martial arts, but Earl asks a great question... when you're being attacked by someone do the various names of techiniques matter, just kick their ass.
We learn... just by coincidence, and not the reason we scheduled him as a guest... that John's sister is the woman that was carjacked by Vincenzo Zagari a couple days ago.
Porn Star Birthday Of The Day
Happy birthday to Princess Donna... Princess Donna identifies her sexual identity as "queer," according to a 2008 interview in the Village Voice. She said: "My sexuality lies outside the dominant culture of vanilla heteronormativity. I'm everything but straight. I like girls, I like boys, I like transgender boys and girls."
Marianne doesn't seem to enjoy the porn star birthday bit. Says the bit sounds "Rapey". Texters think Marianne is funnier than the bit.
Black Or White
We read wacky crime stories... Wease and Earl have to decide the race of the perp.
Here's one way to air your dirty laundry and pull a boner at the same time, Panhandle style.
Deputies say a man, identified as Coshua Jerome Bonner, entered a woman's home and soaked her clothing, comforter, pillows, and walls with bleach, reports the Northwest Florida Daily News in Fort Walton Beach.
But Bonner first texted her warning, according to deputies.
It looks as if this woman landed in one hot spot after a number of witnesses -- all cops -- said she started a fire.


When Pinellas Park cops told a woman, identified as Barbie Ann Winstead, to approach them, she allegedly instead tried to avoid them -- but not before she set a couch on fire that raged out of control and destroyed an apartment building, reports the Tampa Bay Times in St. Petersburg.

Hear the WEASE SHOW on Radio 95.1 in Rochester NY and on iHeartRadio, every weekday from 5am to 12pm, until we finally decide that waking up every day at 3am is just plain stupid.