Wease Show Rundown 12-6-13
Dr. Q HUGS Us
We're joined in studio by Dr. Vito Quatela, the man behind the extra hair of Billy D'Ettorre and John Ditullio. He is also the founder of the HUGS (Help Us Give Smiles) Foundation, which performs plastic surgery on deformed children.
On Dec. 19th-20th The Wease Show will be doing our annual 24 Hour Christmahanakwanzikka Spectacular for charity, and it will be benefitting the HUGS Foundation and Wease Cares.
Wease and Dr. Q talk about the doctor's trip the Viet Nam, the work done by HUGS positively changing children's lives, the demise of bookstores, the documentary Waiting For Sugarman, about an unknown musician from the 70's that Wease and Billy love, and the time Wease's mom got plastic surgery in the old days.
Tools With Sports
In Thursday Night Football the Jacksonville Jaguars beat the Houston Texans 27-20.
We also talk about the rape charges being dropped against FSU QB James Winston, and a listener of Bob Matthews sports talk show with a racist rant against the kid, and then also saying negative things about the late Nelson Mandela, who passed away yesterday. We just wish Matthews had argued with the guy the way Wease would've. We also pay tribute to Mandela with a classic song by The Specials...
Spidey Roc
Wease talks about how weird it is that people are excited that if you pause the new Spider-Man trailer at just the right second you can see Rochester.
Wease also talks about watching the Ellen show yesterday, and how an audience member got the chance to meet her idol Adam Levine. This lady freaked out, and Wease doesn't understand why people get this nuts over celebrity, and mentioned how even Levine was uncomfortable.
We also talk about the local foot fondler that got in trouble last year...
The man accused of fondling young girls' feet at local libraries was sentenced Thursday. Anthony Perri faces 21 years in prison, seven for each victim. He was charged Oct. 28 with three counts each of sexual abuse and endangering the welfare of a child. Police said Perri approached victims while they were reading, removed their footwear and inappropriately touched their feet between January and July 2012.
Remember this guy?
Idiot Criminal Of The Day
This sounds like something out of a "Benny Hill" episode. On Tuesday, a woman in her thirties named Jeanne Ouellette was trying on clothes at a Kohl's in Lenexa, Kansas.
But when she looked down in the dressing room, she saw a guy's HAND poking in under the door, filming her with a cell phone.
She was half-naked, so she freaked out, burst out of the dressing room, and started CHASING the guy . . . TOPLESS. She used her hands to cover herself, but still.
The guy eventually ran out the front door, and Jeanne decided not to follow him. But she was screaming about what he did, and several other customers DID go after him.
Cops eventually tracked him down three blocks away. His name is Jeremy Bradley, and he's been charged with breach of privacy. He's facing up to a year in jail, plus a $2,500 fine.
Jeanne told a local news station that she wasn't really thinking when she ran out of the dressing room topless. She was just "enraged."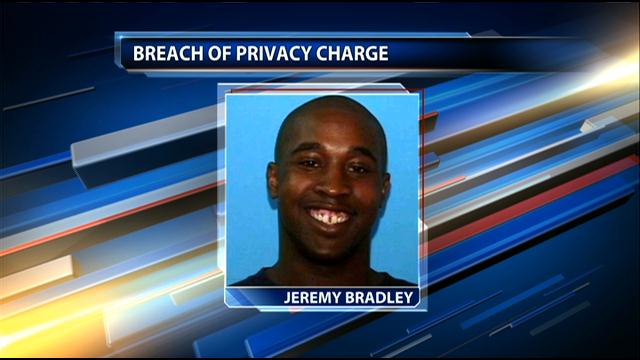 Shari Smith News
Doug Emblidge is having rotator cuff surgery today, so WHAM's Shari Smith is filling in while he recovers.
- Sherriff O'Flynn Defends Proposed Pay Raise
- Getting Into The Spirit On Park Ave
The Return Of Kevin Downey Jr.
Comedian Kevin Downey Jr. is back today, and tells us about a couple that had an argument at the club during his show last night.
Wease Shows his comedy chops by telling some new Paul Walker jokes... are they 2 Fast 2 Soon?
Kevin mentions gangster John Dillinger, and Marianne has never heard of him because "who's heard of a bank robber from the 30's?" Wow... I think we've found a new captain for the Douchebag team if we ever play Geezers vs. Douchebags again. Johnny Depp recently played Dillinger in "Public Enemies".
Wease The Matchmaker
Marianne and Kevin Downey Jr. are very good friends, and have spent the past couple days telling stories about times they have spent together. Wease quizzes them, thinking that at some point they must've banged. They say no, talking about the relationships they've been it, but not with each other. Wease thinks they'd make a good couple.
Tonight is our company Christmas party, which gets us talking about these stats...
60% have KISSED a coworker at or after a company Christmas party.
50% have gotten too drunk and made a fool of themselves.
15% have missed work the next day because of a hangover.
24% got too drunk and told their boss something they shouldn't have.
25% tried to HIT on their boss.
13% STRIPPED OFF one item of clothing too many.
And 31% of people say they've had SEX with a coworker after a company Christmas party.
But in a conflicting piece of news... According to a new survey, FACEBOOK has ruined your chances of getting-it-on at the company Christmas party. 80% of people say they've toned down any potential wildness or drunkenness at the party because they're afraid the photos will wind up on Facebook.
Guide To Holiday Tipping
Since we're all swimming in extra cash over the holidays, here's a quick guide on holiday tipping . . . WHO you're supposed to tip, and how MUCH.
1. Mailmen. They can accept gifts worth up to $20, but not cash or gift cards. UPS and FedEx workers CAN accept cash. And paperboys should get 10 to 20 dollars, or a small gift. Paperboys are people who deliver something called a "newspaper."
2. Doormen. At least $20, and up to $100. A handyman should get between $20 and $50 if they helped you out a lot, and a super should get cash or a gift card worth $50.
3. Day care workers. Cash is best. Think about pitching in with other parents and giving each worker between $100 and $300.
4. Teachers. A small gift, or something for the classroom.
5. Babysitters. Between one day and one week's worth of pay. The same goes for people like hairstylists, housekeepers, gardeners, and personal trainers.
6. Garage Attendants. Cash, or a gift worth between $10 and $50.
7. Garbage Men. Around $20, or a $20 gift. If you give cash, make sure they're allowed to accept it. You don't NEED to tip anyone who works on salary, or anyone who OWNS a business.
Crazy Caller Sparks Controversy
A nut calls us to talk about the bad things Nelson Mandela did as president of South Africa, and the guy gets more and more wound up. He shows his ignorance by praising the dumbest radio show in town, and Wease is able to talk about all his awards locally and nationally.
Josh Mankiewicz
We speak to reporter Josh Mankiewicz about tonight's new episode of Dateline NBC. Surprisingly this is a case of of a murder where you're not sure if the suspect is innocent or guilty until the very end, with many twists or turns.
Wease also tells the story of a German cannibal cop who cut off the penis of a guy that answered a personal ad, and ate it while watching Star Trek. Read the whole story HERE or watch this documentary.

Hear the WEASE SHOW on Radio 95.1 in Rochester NY and on iHeartRadio, every weekday from 5am to 12pm, until we finally decide that waking up every day at 3am is just plain stupid.