Wease Show Rundown 1-31-14
Distracted Driving
We open the show with the sad story of the man killed by an SUV while walking on the shoulder of Holt Rd. in Webster. The initial reports say the cause may be driver error. Texting while driving? Maybe.
This leads to a discussion of distracted driving, talking on the phone, using GPS, changing your radio, and maybe even eating while on the road.
Tools/Super Bowl Friday
The weather forcast for the Super Bowl in NY/NJ is for the 30's, and ticket sellers are complaining about how badly it's hurting their sales. C'mon, it's football weather! Maybe some real fans will have a shot to go to the big game.
We're excited about Rochestarian Renee Fleming singing the National Anthem at the game. Wease loved her press conference. Marianne says she hopes Fleming messes up. No! Seems the person that gets mad when Wease makes fun of someone has a little mean streak. How will the opera singer go over with the football fans?
Wease is thinking about watching the with a bunch of buddies at his poker joint, or may just hang with Doreen at home. When did the Super Bowl become a family gathering?
Marshall Fine Film Reviews
That Awkward Moment... Zac Efron stars in this movie about three guys trying to avoid commitment, who end up getting sucked into relationships anyway. His friends are played by Miles Teller, who was Willard in the "Footloose" remake, and Michael B, Jordan from "Fruitvale Station".
Marshall likes the cast, and they help a little, but thinks it's a pretty weak film with no great laughs.
Labor Day... Kate Winslet plays a single mom who falls in love with Josh Brolin, an escaped convict who forces her to hide him in her home. It's narrated by Tobey Maguire and directed by Jason Reitman, who did "Juno" and "Thank You For Smoking". Marsh is in the minority of critics, and likes this romantic drama quite a bit.
Rock Of Ages
Wease and Pauly went to the RBTL stage version of "Rock Of Ages" last night, and were blown away by the level of talent of the people involved. One of the stars of the show is a woman from Pittsford, turned Broadway actress, named Shannon Mullen.
We had talked to Shannon on the phone last week, but she can't come to studio today, instead the show's other elad will be up. Wease was worried that we offended Ms. Mullen last week with our naughty banter last week, so Wease asked a listener that won a meet and greet to make sure the actress didn't hate us. Shannon says she isn't mad at all, but is just too busy to come up.
Pauly says that if you saw the poorly reviewed movie version of this show, starring Tom Cruise, don't let it keep you from seeing this excellent play.
Doug With News
- Conviction Upheld Against Knox
- Strollers Recalled For Amputation Risk
- 40% Of Parents Say No To Football
- NYS Troopers Watchful On Super Bowl Sunday
Rowley Street Suspicions
We discuss the ongoing investigation surrounding Dr. William Lewek, the drug counsellor who had the body of Matthew Stratton buried in his backyard on Rowley St. Wease's theory is that the kid OD'd while shooting drugs in the guy's house, and when Stratton died Lewek panicked and got rid of the body.
Celebrity Fat Shaming
Alyssa Milano has forgiven Jay Mohr for comments the comedian made about her, but that doesn't mean she's done talking about Baby-Weight-Gate.
During an appearance on "Extra," Milano dished to Mario Lopez about how she felt when she heard that Mohr had said "It seems like she had had a baby and said, 'I don't really give a s--t' … I read it on her gut."
"I just think he was trying to make a joke and didn't think about it. I heard it… and it hurt me. I was affected by it. I wanted to remind him that I'm a human being and this hurts."
To do so, Milano reached out to Mohr on Twitter and kindly told him she was unhappy with his joke.
"So sorry you felt the need to publicly fat-shame me," she tweeted. "Be well and God Bless. Please send my love to your beautiful wife."
Since then, Mohr has apologized. But Milano said the whole practice of judging female celebs after they give birth really irks her.
Bonus Content... Alyssa Milano Hot Shots
Super Pizza Prize
Congrats to Christine Andriossi for winning the Papa Johns Pizza Prize Pack from the Wease Show for her Super Bowl party. Enjoy the pizza, wings, cookies, soda, etc...
Wease doesn't believe this... The Simpsons predicted the winner of this years Super Bowl 9 years ago...
If before the season began you had the Broncos and Seahawks pegged for Super Bowl XLVIII, don't go patting yourselves on the back.
"The Simpsons" had you beat by nearly a decade.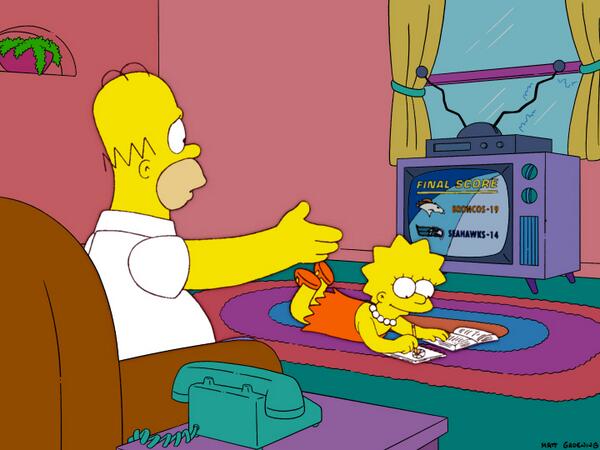 While the game taking place in the episode isn't the Super Bowl, it's still interesting considering the teams have played just twice since 2002 — in '06 and '10.
So is this life imitating art or merely a silly coincidence? That's up to you to decide. But if the final score ends up identical — or even close — Matt Groening has lifelong bragging rights.
Groundhog's Day
Wease is glad that Groundhog's Day is Sunday so that we don't have to do any goofy bits, call Puxatawny, PA to check on the Phil The Groundhog, or report on the potential for 6 extra weeks of winter.
Wease is glad that Groundhog's Day is Sunday so that we don't have to do any goofy bits, call Puxatawny, PA to check on the Phil The Groundhog, or report on the potential for 6 extra weeks of winter.
Between the Super Bowl and the Syracuse/Duke NCAA basketball game on Saturday night it's a great weekend to be a sports douchebag. Marianne is torn who to root for in the basketball game... she graduated from Syracuse, be best friend Stacy is an insane Duke fan so Marianne would like her friend to be happy, but as a nonsport fan she really doesn't care.
Amanda Knox
Amanda Knox was found guilty yesterday in her murder retrial, and was sentenced to over 28 YEARS in jail. But she probably won't serve any time unless she goes back to Italy, since the U.S. won't extradite her.
Josh Hobbs
We're joined in studio by "Rock Of Ages" star Josh Hobbs. Doreen and Pauly are still talking about Josh's abs from the show last night. Josh talks about touring, making a living singing 80's rock on Broadway, etc...

Hear the WEASE SHOW on Radio 95.1 in Rochester NY and on iHeartRadio, every weekday from 5am to 12pm, until we finally decide that waking up every day at 3am is just plain stupid.