Wease Show Rundown 2-10-14
Monday Monday
We're back from our weekend with stories and opinions from our couple days off.
Wease wants people who don't live in Webster to stay out of the movie theater there... because of the recliner seats all the movies Wease wants to see are sold out.
Wease watched the Beatles tribute last night, and LOVED it... in fact got into a Facebook argument with someone that didn't like something he did. We'll talk more about that after 7.
Are you watching the Olympics? Pauly and Marianne are both enjoying the ice skating, but Wease not so much. He says "boring".
Harry Gibbs Sports
Russia's Alexey Sobolev is our Olympian of the day. He stepped out on Thursday morning at the qualifiers sporting his snowboarding suit, bib and a silver helmet bearing his phone number in bright blue digits. By Saturday his cell had given up temporarily, inundated by an avalanche of texts and naked photos from women around the world.
"Most of the messages are good luck messages and messages from the girls," Sobolev told the AP. "Some of the messages are not appropriate to read aloud."
How will the announcement that Missouri defensive player is gay affect his getting drafted in the NFL. There is a chance that it might even help him because teams won't want to look homophobic.
Did you see the picture after US Olympian bobsledder Johnny Quinn got locked in his bathroom and had to break out? Quinn spent some time as a Buffalo Bill in 2007.
Beatles 50th Anniversary Tribute
Wease and Billy both watched the Beatles tribute show last night and enjoyed it immensely... different musicians playing their favorite Fab Four songs. Some great performances (like Dave Grohl's "Hey Bulldog"), and a couple awful (who asked Katy Perry to do "Yesterday"?)
Wease got into a Facebook argument with someone that didn't like the show. The naysayer said that it was uncomfortable watching people doing covers with Paul and Ringo in the audience. We disagree, and feel that they felt honored by the salute.
Yoko Ono was also there, and wish she would have used her powers to get Imagine Dragons to break up.
Doug With News
- Early Morning Fire In Greece
- Snowy Blast Causing Difficult Commute
- Freezing For A Reason At Polar Plunge
Crazy Game Of Poker
There was an incident at Wease's poker game Friday night where one of Wease's fellow gambling degenerates was acting weird (or weirder than normal... being a little loud and nutty). The crazy guy left for awhile, but them came back with a vengence, starting fights, punching people, and even threatening to shoot someone (luckily he had no gun).
People were bloodied, windows were broken, and things get so out of control Wease actually wanted to call the police (but since the place is still waiting for it's gambling and liquor licenses it wasn't advised). Wease and some of his friends made an escape and went drinking for a little while at a local bar.
Wease told Doreen the story when he got home, and now she's pissed he didn't call her from the bar and invite her out for a drink. She thinks he's an insensitive jerk, and says he doesn't have a Valentine this year.
Remembering Faith
We talk about the calling hours for Joe T's wife Faith, attended by Wease, Pauly, Billy, Tools, many other friends of the show, people from other radio stations, and folks from all walks of life. There was a HUGE crowd. A very touching outpouring of love.
Opening Ceremonies
What did you think of the Olympic Opening Ceremonies? Pretty spectacular, but we find it odd that NBC edited out the Anti- Discrimination Statement from the tape delayed US broadcast. Why would they do that, since that is something America believes in? Were they trying to make Russia look bad?
Dumb Starbucks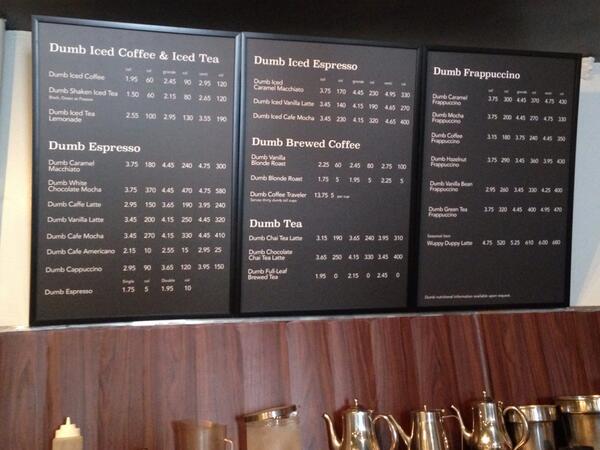 The opening of Dumb Starbucks creates a buzz in Los Feliz, but no one knows whether it's a real business or marketing ploy. For now, it's serving free java. You can read about the place, it's use of the "Parody Law", and whether they'll make money HERE.


We also talk about the college basketball incident from over the weekend where a player pushed a fan in the stands after allegedly getting called the N word (which the person shoved denies saying).
Mall Trivia Challenge
Jackie Nutt asked people some common knowledge questions at Greece Ridge Mall, and Marianne asked the same questions at Eastview. Our listener/comtestants have to guess who will know the correct answers... Greece, Eastview, both, or neither.
Neither knew the name of Rochester's mayor, or Maggie Brooks' job title. Eastview knew that the legal Blood Alcohol Level for DWI was .o8 (Greece thought it was .25), both malls could name at least 1 Great Lake, and neither knew that Obama Care and the Affordable Health Care Act are the same thing.
If you ever get asked, the Rochester mayor is Lovely Warren (not Warren Love, as guessed by the Greece Ridge Mall contestant.
Wease BJ Story
Wease gives a figurative bj to BJ Novak. We interviewed the actor/writer last week to promote his book "One More Thing: Stories and Other Stories", Wease read it over the weekend and LOVED it. Raving about how funny and smart it was.
Pauly's Wacky Neighbor
Remember Pauly's crazy neighbor... the guy that stole Ryann's hat, has had drug ODs, issues with other neighbors, etc... Pauly found out why the dude's car hasn't moved in a week, and this weekend someone was moving all his stuff out. The guy is in jail, and will be for a few months for a bunch of different offenses.
While talking about where Pauly lives he tells us he and Ryann are finally being rebels... she's parking in the forbidden zone known as the driveway.
and Happy Birthday to pornstar Stephanie Swift. Wease had her in studio many years ago... he doesn't remember, but Billy does, and highly recommends he masterpiece "Miscreants". She now is part of a group to help former porn stars.

Hear the WEASE SHOW on Radio 95.1 in Rochester NY and on iHeartRadio, every weekday from 5am to 12pm, until we finally decide that waking up every day at 3am is just plain stupid.