Wease Show Rundown 2-21-14
Man Vs. Food
Question of the morning... why do women always want to share the food of thier guys? Pauly and Billy wonder why Ryann and Susan always ask them to share their food, and order stuff for themselves that Pauly and Billy don't like. Taco Bell now has a whole ad campaign based on women taking their boyfriend's food.
John Ditullio (filling in for Wease) feels himself getting a cold, which leads to a discussion of if you can drink out of someone else's cup... even when they aren't sick?
Should it be illegal to not like Peanut M&M's? Tools and Pauly think it could be grounds for breakup.
Tools also talks about calling his dog Sparky names during a walk yesterday. What would you do if you saw a guy walking down the street calling his pet a douchebag, a maggot, and worse?
Jackie also talks about going to see comedian Ralphie May last night with her sister and friends.
Sports
The US Women's Hockey's team lost a heartbreaker yesterday 3-2 in OT to Canada. The USA was leading 2-0 late in the 3rd period.
Did you see the interview with Dutch speedskating coach Jillert Anema talking about how American football sucks? Some pretty funny comments masking some real animosity from Mr. Anema.
Marshall Fine Film Reviews
Marshall didn't see either of this week's major releases, but neither are getting good reviews from other critic so far...
Pompeii... Set in 79 A.D., Pompeii tells the epic story of Milo (Kit Harington), a slave turned invincible gladiator who finds himself in a race against time to save his true love Cassia (Emily Browning), the beautiful daughter of a wealthy merchant who has been unwillingly betrothed to a corrupt Roman Senator. As Mount Vesuvius erupts in a torrent of blazing lava, Milo must fight his way out of the arena in order to save his beloved as the once magnificent Pompeii crumbles around him.
3 Days To Kill... Kevin Costner is a dangerous international spy, who is determined to give up his high stakes life to finally build a closer relationship with his estranged wife and daughter, whom he's previously kept at arm's length to keep out of danger. But first, he must complete one last mission- even if it means juggling the two toughest assignments yet: hunting down the world's most ruthless terrorist and looking after his teenage daughter for the first time in ten years, while his wife is out of town.
Bonus Content... Miss Butt World Championships
Amy Adams On Phillip Seymour Hoffman
Actress Amy Adams was on "Inside The Actor's Studio" and got emotional while talking about Phillip Seymour Hoffman (they starred together in "Doubt" and "The Master").
We talk about people putting Hoffman down for his drug problem, and how wrong it is to do that.
Doug Emblidge News
- Cost Of Natural Gas Going Up
- Rochester Natives Found Dead In Tennessee
- Justin Timberlake Postpones Buffalo Concert
Rapper's Delight
Did you see the hilarious video someone must've spent a year putting together of NBC News anchors Brian Williams and Lester Holt doing the rap classic "Rapper's Delight"? Amazing!!!
Tools asks Marianne about her "origin story"... how she wound up on The Wease Show after years in NY and LA. I'm not sure how her apartment in LA wound up with bedbugs, but that's what we can thank for her moving to Rochester.
Casino Debate
The debate surrounding a potential casino in Henrietta continues to rage. A listener sends us a letter he recieved from the anti-casino organization opposing the possibility. We disagree with most of their points.
Many listeners have opinions about this issue, both pro and con... destination casinos vs. convenience gambling... chains vs. mom & pop businesses.
Man Fights For Rights To Late Wife's Facebook
We speak to Charles Wachal, a widower who lost his wife on Valentine's Day. She had recorded videos for her husband and posted them to Facebook, but Facebook has locked he account and he can't get to them. Read the whole story HERE.
In Laws
What should you call the mother and father of your partner? Mom and dad? Mr. and Mrs (insert last name)? Hey you?
This leads to other pronoun talk and when to lable someone a man/woman/boy/girl, etc...
Porn Star Birthday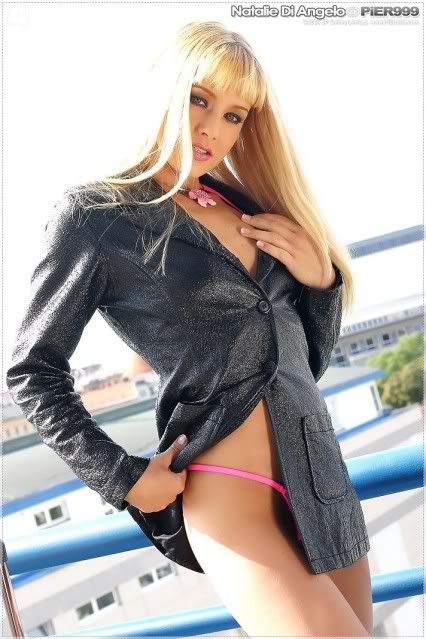 Happy 33rd birthday to Natalli DiAngelo!

The star of the low budget skin flicks "Tight Rider," "Orgy Initiations 4" and "Blistering BJs 5" originates from Trencin, Slovakia.

This shapely European mother-of-one was actually studying to become a secretary when she fell into the porn biz in an attempt to pay for her schooling…all so she can focus on her studies.
But apparently all Natalli could focus on was riding the Salamander… She's still going strong in the industry so there's obviously zero regrets.

Hear the WEASE SHOW on Radio 95.1 in Rochester NY and on iHeartRadio, every weekday from 5am to 12pm, until we finally decide that waking up every day at 3am is just plain stupid.