Wease Show Rundown 2-24-14
Welcome Back Wease
Wease is back from his Florida vacation, and he's pretty beat this morning. Thanks to a 4 hour delay he and his family got back in Rochester at 2:30 am. Here is Wease and his bubbie arriving back in Buffalo at 1:15am.
Wease talks about driving around yesterday in the fancy man waterfront area of Fort Lauderdale and seeing Steven Spielberg's 200 million dollar yacht.
The Wease's actually got the the airport an hour and a half early to get home, but his flight was the only on delayed.
Later this morning he's going to tell us how he got in trouble with Doreen trying to borrow money at the casino because he lost his everything in his pocket.
The kids DO have to go back to school this morning. Wease wanted to give them a pass because of the late home arrival, but Doreen is making them go back to class. At least they got a week of fun in the sun...
Tools
Thanks to John Ditullio for filling in for Wease last week... he's back in his normal slot.
The big local sports news over the weekend was Syracuse's loss to Duke Saturday night. Coach Jim Boeheim melted down at a bad call with 10 seconds left in the game, causinga double technical, and got thrown out.
Also, we non NASCAR fans think it's funny that during yesterday's Daytona 500 rain delay Fox showed last year's race, and over 100,00 fans thought it was live. If you showed last year's Super Bowl I think people would realize it. In case you're curious, Dale Earnhardt Jr. eventually won late last night.
Wease and John also discuss the troubles of the US Hockey teams over the weekend, with the women choking late in the Gold Medal game, and the men not scoring a goal in two games.
JT's Apology To Buffalo
Justin Timberlake had to postpone his concert in Buffalo this past Saturday, but was on Jimmy Fallon Friday night, and offered our area an apology...
Doug With News
- Monday Morning Shooting In Rochester
- Xerox To Furlough Service Workers
- Rochester Music HOF To Announce Inductees
- Did Medical Condition Cause Deadly Car Crash?
More Vacation Stories
Wease tells about spending extra money for a rental car upgrade (he wanted the Caddy Escalade, instead of the Ford Doreen booked) after arguing with Doreen about it, and then the car wound up being a piece of crap. Then at the end of trip, while returning the car, they tried charging him an extra $800... he tries to joke and argue with the counter people, but they were challenged by the English language and Wease's slang. Turns out there were a bunch of late charges, and Wease talked the charges down to $233.
Wease Hater
A listener named Jeremy calls to talk about music, but then starts talking about how good last weeks show was without Wease, and how he doesn't like our fearless leader. After some grilling from Wease we find out that Jeremy is a self loathing jobless, fat guy who hates himself more than he hates Wease (those are Jeremy's words, not mine).
Bonus Content... Wipeouts From Sochi
Billy Gets Booed, Pauly Gets Screwed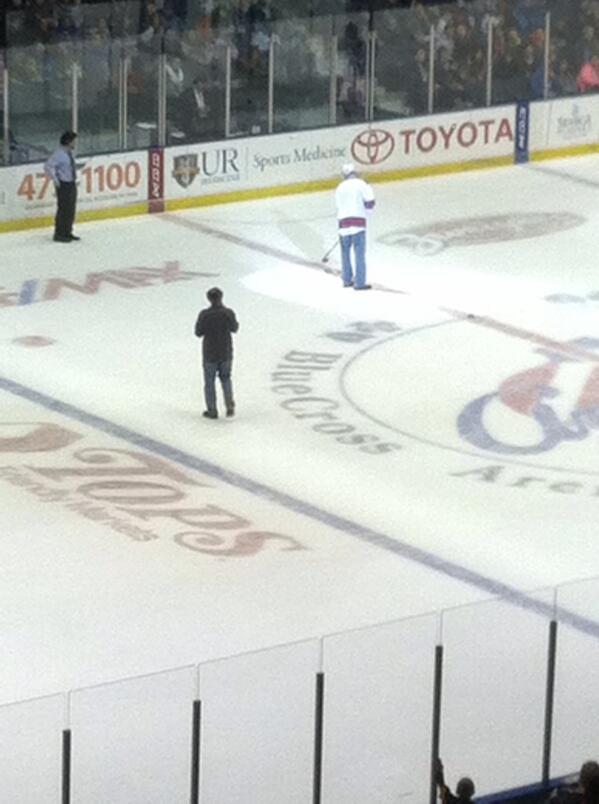 Friday night Billy MC'd the between period entertainment at the Amerks game, including Scoro (seen above). When one of the contestants scored he made the joke "Hey, you just scored more goals than the US Hockey team did today".
BOOOOOOOOOOOOOO!!!!!
His reply (while laughing at being booed)... "Too soon? You know I'm right." More laughing and booing, and 12 hours later everyone had jumped off the US Hockey bandwagon, but right them, just after the heartbreaking loss to Canada, hockey fans were still sensitive.
Pauly was bartending at Rubino's sports bar in Webster Friday night, when a troll woman drank heavy, put it on a tab, and then left without paying. If you know a bitch that likes Bacardi and cranberry and wears a Dallas Cowboys sweatshirt let Pauly know... he's looking for her.
Wease then tells more stories of Doreen being cheap in Florida, fighting for Lucy when her daughter overpays for a sweatshirt, and threatening to return a chocolate milkshake at the airport because it wasn't chocolatey enough.
More Wease In Vacation Hell
Wease had a lot of fun on his vacation, but knows everyone's favorite stories are the things that go wrong.
While playing poker Wease had a bad day and went broke, he was steaming and considered leaving... but why would you do that when you can get a cash advance from your credit card? He called Doreen to get permission to do that. She didn't want him to do that because of the high convenience charges, so she played enabler and made arrangements with their bank in Rochester to give him money from a Fla. branch. He lost more.
If Doreen playing enabler for our favorite gambling addict doesn't prove she's crazy, the fact that she's jealous of a hot young woman that works at the casino, thinking at Wease and Crystal were hitting on each other. Doreen calls to defend herself tells us more about life with Wease.
MOOOOOO
A farmer in Herkimer County, N.Y. couldn't figure out why his cows seemed more anxious than usual. When they weren't producing as much milk as usual, he set up a surveillance camera.

What he saw shocked him: two men were rolling in the hay with his livestock. The farmer contacted authorities who conducted their own investigation.

As a result, Michael Jones, 35, and Reid Fontaine, 31, were arrested for misdemeanor sexual misconduct, UticaOD.com reported.

Authorities said Fontaine attempted to have sex with several cows while Fontaine filmed the encounters. The two were released on an appearance ticket.
Wease is of the opinion that while very weird... Marianne says udderly disgusting. Wease thinks maybe the cows liked it. Marianne says the cows didn't give their consent.

Hear the WEASE SHOW on Radio 95.1 in Rochester NY and on iHeartRadio, every weekday from 5am to 12pm, until we finally decide that waking up every day at 3am is just plain stupid.