Wease Show Rundown 4-24-14
Thursday Thoughts
Marianne starts the morning with a funny story of a concert she went to last night. She and Robbie saw a band called "The Devil Makes Three" last night at the Zeppa Auditorium and was surprised that there was a guy trying to mosh to the music… it's 2 acoustic guitars and an upright bass. There was also a fight. Can you imagine trying to mosh to this…
Sean Carroll
We're joined on the phone by WHAM 13's Sean Carroll about the mistrial in the Tyler Carbonaro case
After two weeks of testimony and three days of deliberations a Monroe County Jury was dismissed of their duties and a hung trial was declared.
The jury, made up of eleven men and one woman, could not come to an agreement on a verdict in the DWI and Manslaughter case of Taylor Carbonaro, 23.
Carbonaro faced charges for a February 2012 crash that killed his girlfriend at the time, Mallory Hale, 24. The two were returning home from a bar and crashed into a pole, a tree, and a parked pickup truck on Lake Road (Route 19) in the Town of Sweden.
Both victims were thrown from the vehicle and deputies and emergency workers testified about statements Carbonaro made at the scene that involved him admitting he was drinking and behind the wheel.
But at trial, Carbonaro's lawyer presented witnesses and evidence that suggests Hale was actually the one driving the car. Medical testimony suggested that Carbonaro suffered severe head injuries, doesn't remember what happened, and could not have been speaking intelligently at the time.
Three jurors told 13WHAM News after the trial that the jury could not come to agreement on who was behind the wheel.
"It was a tragic case it was a very difficult case and we did our best to try to get this resolved but we just couldn't reach unanimity," said a fourth juror who spoke to 13WHAM News. A new trial is scheduled for October 2014.
Sean talks about the sadness of the case, conversations he's had with Mallory Hale's family, etc...
Tools
John Ditullio is in studio, and we're breaking down the the Bills schedule for next season. We're disappointed that the two big rumors didn't come to fruition.... no Thanksgiving game vs. Detroit, and no Monday Night Football against Green Bay. The only prime time game is against Miami on a Thursday night.
Wk
Date
Game
Stadium
Time (ET)
Tickets
Network
DIRECTV
SIRIUS
Westwood One
1
Sep 07
BUF @ CHI
Soldier Field
1:00 PM
Tickets
FOX
2
Sep 14
MIA @ BUF
Ralph Wilson Stadium
1:00 PM
Tickets
CBS
3
Sep 21
SD @ BUF
Ralph Wilson Stadium
1:00 PM
Tickets
CBS
4
Sep 28
BUF @ HOU
Reliant Stadium
1:00 PM
Tickets
CBS
5
Oct 05
BUF @ DET
Ford Field
1:00 PM
Tickets
FOX
6
Oct 12
NE @ BUF
Ralph Wilson Stadium
1:00 PM
Tickets
CBS
7
Oct 19
MIN @ BUF
Ralph Wilson Stadium
1:00 PM
Tickets
FOX
8
Oct 26
BUF @ NYJ
MetLife Stadium
1:00 PM
Tickets
CBS
9
Bye
10
Nov 09
KC @ BUF
Ralph Wilson Stadium
1:00 PM
Tickets
CBS
11
Nov 13
BUF @ MIA
Sun Life Stadium
8:25 PM
Tickets
NFLN
12
Nov 23
NYJ @ BUF
Ralph Wilson Stadium
1:00 PM
Tickets
CBS
13
Nov 30
CLE @ BUF
Ralph Wilson Stadium
1:00 PM
Tickets
CBS
14
Dec 07
BUF @ DEN
Sports Authority Field at Mile High
4:05 PM
Tickets
CBS
15
Dec 14
GB @ BUF
Ralph Wilson Stadium
1:00 PM
Tickets
FOX
16
Dec 21
BUF @ OAK
O.co Coliseum
4:25 PM
Tickets
CBS
17
Dec 28
BUF @ NE
Gillette Stadium
1:00 PM
Tickets
CBS
Due to flexible scheduling, the kickoff time of games in the latter part of the season are subject to change.
Last night it was proven that the NY Yankees are dirty rotten cheaters when pitcher Michael Pineda was ejected for having pine tar on his neck.
Guns Don't Belong There
19-year-old Dallas Archer was booked into Kingsport, Tennessee jail for driving with a suspended license. The real action, however, happened as she was being searched. At about 3:15pm on Monday, a female cop found an "unknown object" in Archer's groin and it runed out to be a gun. A 4-inch North American Arms revolver to be exact. She stole it, not surprisingly, but was released after posting bail.
Wease also talks about going to his kids track meet yesterday and freezing his butt off. Plus, track isn't really audience friendly. Is he a bad dad for not being happy to be there? Is he a good dad for being there even though he didn't want to be? Which is better... this or the dance recitals he goes to for his daughter?
This is for Wease, who would prefer to play poker...
Doug With News
- New Food Truck Rules Approved
- Pedestrian Killed After Being Hit By Car
- Proposed Regulations For E-Cigs
The e-cig story leads to a discussion with callers about the pros and cons of the electronic cigarettes... from helping longtime smokers quit, being marketed to kids with all the sweet candy and food flavors, being harmful to animals, etc...
YMCA
We're joined in studio by Johanna Bartlett from the the eastside YMCA. She's here to promote The Eastside Annual Celebration... the annual campaign featuring food, music, and fun at the Artisan Works (one of Wease's very favorite places). Click HERE for all the info you need.
'Cause Stone Cold Says So
When legendary wrestler "Stone Cold" Steve Austin climbs into the wrestling ring, he doesn't pull any punches. And apparently, he takes the same exact approach when it comes to sharing his opinions on things he's passionate about.
Stone Cold has been running a weekly podcast for the last year -- and because it's a podcast– other than hard core fans… no one really hears it.
Which is why his brash, profanity laced rant regarding same-sex marriage from awhile back went largely unnoticed by the mainstream until recently.
And in case you missed it: his rant is pretty epic. [edited for profanity]
"I don't give a [bleep] if two guys, two gals, guy-gal, whatever it is, I believe that any human being in America, or any human being in the goddamn world, that wants to be married, and if it's same-sex, more power to 'em."
"What also chaps my ass, some of these churches, have the high horse that they get on and say 'we as a church do not believe in that.' Which one of these mother [bleepers] talked to God, and God said that same-sex marriage was a no-can-do?"
"OK, so two cats can't get married if they want to get married, but then a guy can go murder 14 people, molest five kids, then go to [bleeping] prison, and accept God and He's going to let him into heaven? After the fact that he did all that [bleep]? See that's all horse [beep] to me, that don't jive with me."
This leads to Pauly and Billy talking about Stone Cold's wrestling history, and how he broke his neck in a match against the late Owen Hart.
Most Beautiful Women/Chris Kattan
If you've been following Lupita Nyong'o's career, you know she's one of the most beautiful women on the inside, but now "People" magazine has officially made her the most beautiful on the outside. The Oscar winning actress is the most beautiful woman of 2014. "It was exciting and just a major, major compliment," Nyong'o told "Today" about gracing the cover.
"I was happy for all the girls who would see me on (it) and feel a little more seen." The magazine doesn't exactly have a long history of making women of color feel seen. In the 25 years of the list, only two other women of African descent have nabbed the title, Halle Berry in 2003 and Beyonce in 2012. "Light skin and long, flowing, straight hair," she said of what she grew up believing was beautiful. "Subconsciously you start to appreciate those things more than what you possess." Nyong'o added that while she didn't find herself particularly beautiful while growing up, her mother Dorothy "always said I was beautiful, and I finally believed her at some point."
Despite being a critic and fan darling, Nyong'o says the best compliment is when she's caught off hand. "When I have been called beautiful with not one drop of makeup on," she told the mag, adding, "and also before I comb my hair or put on a pretty dress." As for the magazine, they say the decision was unusually unanimous decision. "There was really no contest this year," People's editorial director Jess Cagle said on the "Today" show making the announcement. "She seemed like the only choice."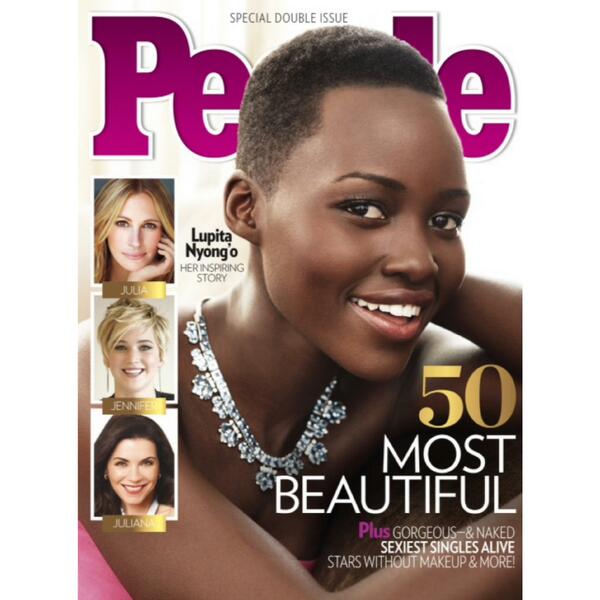 We then debate Hollywood hotties, which ones are "dateable" and which ones are "bangable", the former SNL star Chris Kattan comes in to add to the discussion and talks about some of his dating history, including his pursuit of Renee Zellweger.
Chris Kattan
Chris is at The Comedy Club in Webster all weekend long and tells us about his favorite SNL characters, TV, movies, this parents, music, and more. Great stuff.

Hear the WEASE SHOW on Radio 95.1 in Rochester NY and on iHeartRadio, every weekday from 5am to 12pm, until we finally decide that waking up every day at 3am is just plain stupid.