Wease Show Rundown 7-23-14
Another Day, Another Shooting
We start the morning with a story about a shooting in our city last night, and the easy access people seem to have to guns. We think this is a bad thing, and wish there weren't so many of them. We get a call from an NRA member who is a fan of Wease's (they exist), and he sticks up for firearms having a friendly debate with our host.
Happy Batman Day
Theme Bump Wednesday starts, and is guessed after the first song, "Happy Anniversary" by The Little River Band. A listener who is as big a geek as Billy knows that today is National Batman Day, celebrating the 75th anniversary of the 1st appearance of the Caped Crusader in Detective Comics #27. How are people even at work today? It's a holiday.
Tools
Seattle Seahawks running back Marshawn Lynch is an interesting dude who plays by his own rules… Which is easy to do when you're making millions of dollars every year and possess a Super Bowl ring.
But Marshawn takes his rules to a BOLD new level… When he parks his custom Lamborghini -- he surrounds his ride with velvet ropes. Like, the velvet ropes you see in line at the bank.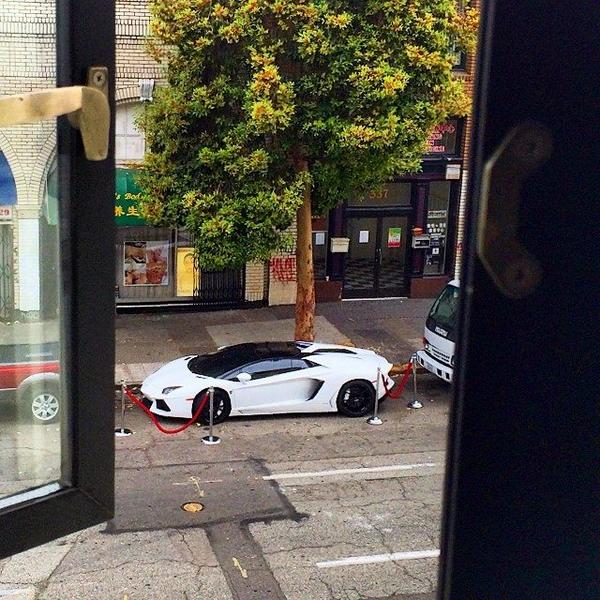 How does big old Marshawn even fit into this thing?
An all-nude joint in New York City is offering Derek Jeter and the rest of the Yankees organization free lap dances Sept. 7, the same day that the team is officially honoring the captain.
All Yankee employees will receive free admission and two free lap dances, the Show Palace in Queens announced. Plus, the dancers will be painted in pinstripes.
If Jeter himself were to show up, a rep tells The Huffington Post, he "gets unlimited lap dances and food and a lifetime free-entry pass to Show Palace as a thank you for his years of service as a New York Yankee."
So You Think He Can Dance
We speak to Bob Coffey, a friend of Wease's who's son Teddy is competing on "So You Think You Can Dance". The show is live tonight, and then you can vote for Teddy afterwards at fox.com
Charlotte Strong
The grassroots movement "Charlotte Strong" took its concerns about the city's port project to city council Tuesday night. Dozens donning green "Charlotte Strong" t-shirts addressed council members before its regular meeting. The group handed over a petition with 2,000 signatures, asking city council to delay the process and start over.
How were there 2,000 signatures? The population of Charlotte is only 1,700. Do you remember when things just happened in the city without big protests?
Bonus Content... Baseball Babes Part 2
Doug With News
- Deputies Suspended After Investigation
- Bicyclist Struck On Clifford Ave.
Doug also brings up a rumor he heard that at his recent concert at CMAC Frankie Valli was lip syncing. Would this bother you if you paid to see someone in concert and they were lip syncing?
Enemy Of The Truth
A caller named Walter declares that Wease is an "enemy of the truth" for not believing his conspiracy theory that you don't need a license to drive, and that the mainstream media and government is keeping this fact a secret. We think Walter is crazy.
Ask Wease
- Wease and crew...
Today may be Batman Day, but Batman didn't have any super powers. If you could have one power what would it be? Flight? Super strength? Invisibility? Super hearing (or in Wease's case... hearing)? Something else?
Chuck
Wease likes Pauly's idea of being able to eat whatever you want. There actually is a hero that can eat ANYTHING. Matter-Eater Lad from the Legion of Superheroes.
- Does your family have a weird item that shows up at every family BBQ?
My family always made "marshmallow salad". It was a must.
I never knew why....Nobody ever ate it. But, it HAD to be there.

I was in my 20s before I learned that that wasn't a normal thing to be at BBQs.
What odd thing does your family always do or make for your family BBQ? I'm from the west side... is it a Greece thing?
Ed
Our favorite answer came from a listener who said they bring a fight to family cookouts.
Wease
Recently I stayed at the apartment of the guy I'm seeing. Since I was there for a whole weekend, I noticed something weird.

He has no soap on the sink in his bathroom. He has bar soap in the shower, but no soap to wash your hands after you do your business.

I actually used the soap he had in the shower, but I felt weird asking him why he didn't have any on the sink.

How is this guy washing his hands after he goes to the bathroom? IS he washing he hands at all?! (Dirty hands.)

Shouldn't everyone have soap in the bathroom on the sink?!
Lisa in Hilton
Wease thinks this is gross, and so does Marianne, but over her years Marianne has had boyfriends (mostly comics) that didn't have soap in their bathrooms.
Beatle Tree Killed By Beatles
Sometimes truth is stranger than fiction. And that's certainly the case with a pine tree planted to honor of the memory of Beatle George Harrison. How so? According to the Los Angeles Times, it's has been killed by actual beetles. Apparently, the living local monument fell victim to an infestation of insects that couldn't be treated. The 10-foot-tall pine was planted in 2004 died only recently, and according to Councilman Tom LaBonge, a new one will be planted soon.
The so-called "George Harrison Tree" was (and will be again) located near the city's famous Griffith Observatory and was accompanied by a plaque reading: "In memory of a great humanitarian who touched the world as an artist, a musician and a gardener." It also includes aquote from the Maharishi Mahesh Yogi: "For the forest to be green, each tree must be green."
George Harrison eaten like beetles? That'd be like Don Heley being snatched by an eagle.... Meatloaf choking on meatloaf. (Thank you Jimmy Kimmel).

Hear the WEASE SHOW on Radio 95.1 in Rochester NY and on iHeartRadio, every weekday from 5am to 12pm, until we finally decide that waking up every day at 3am is just plain stupid.