Gene Simmons Doesn't Think KISS Will Make It to 50th Anniversary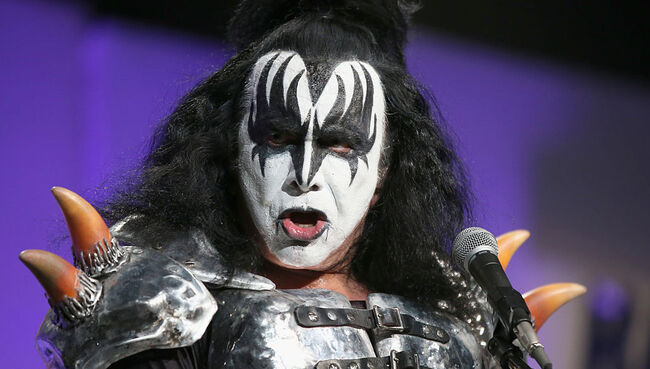 KISS bassist Gene Simmons says he has a hard time imagining himself and frontman Paul Stanley wearing their heavy stage costumes for too many more years.
Simmons acknowledged in a recent interview that preparing for a concert even nowadays is difficult. He's not sure he will still be able to do it even five years from now, in time for what will be KISS's 50th anniversary.
"When I was a kid, we used to say, 'Don't trust anybody over 30,'" Simmons said in a new interview with a Finnish website (transcribed by Blabbermouth), before noting the longevity of someone like Paul McCartney, who is still touring and performing into his 70s. "Before the '50s, there was no such thing as rock and roll. And what are the rules?"
While there's no clear date on when a rocker should take his/her final bow, Simmons says he's sure he won't be wearing his iconic "Demon" costume much longer.
"In KISS, we can't continue longer than [when we are in our] early 70s," he said, contrasting KISS to contemporaries like Iggy Pop or The Rolling Stones, who perform in more comfortable attire. "Me? It takes a long time and the outfit weighs a lot and the heels are taller even than your girlfriend. It's a lot of hard work, and when we come off the stage, for me, you're really tired. So in its present form, KISS can't do it past 75, 74...I wouldn't want to do it one day long than it was real."
Simmons added that he's never thought about KISS turning 50 years old.
"I'd probably be 73, 74," he said. "That's pushing it. We'll see."
He added that he's not sure whether or not KISS's next tour will be its last one. The band has taken most of 2018 off the road while Simmons embarks on his Vault Experience project, performing intimate solo shows and meet-and-greets with KISS super fans all over the world.
Presently the band has only two dates on its itinerary for 2018. Get KISS's tour dates here.
In June, Simmons revealed that KISS will soon announced a three-year world tour to begin in January. He said it would be "most spectacular tour ever."
Photo: Getty Images